We are in full swing of holiday chaos at our household, as I'm sure most people are right now. It has been somewhat muted and with good reason following the tragic events that recently occured in CT. I will say that my heart and soul ache for the families affected by this unfathomable nightmare. As a mother, I cannot even begin to imagine what these families are going though and I hope these families find solace in knowing that our whole country is mourning their loss.
Well, now that I'm all choked up again, I will try to lighten the mood a little with our holiday happenings. First off, My son, Liam saw Santa for the FIRST time! It was very cute, and he did very well. No tears! He also picked up a new word. Can you guess what it is? SANTA of course! I'm simply amazed at the rapid pace at which Liam is now picking up new words! It's totally awesome.
We have also been reading a lot of stories to try to both get ourselves into the christmas spirit and teach Liam all about christmas. Our favorite holiday book so far is, That's not my Snowman by Finona Watt. It's a very simple touch and feel book, but for some reason Liam loves it!
We have also been doing a ton of baking, which is my favorite part of christmas, and also my most dispised. I mean, I'm simply forced to eat baked good multiple times on a daily basis during this season and I have no self control. Doesn't take well to my already post baby body. And when I tell you that my new favorite cookie recipe has 4 sticks of butter (Yes, I said 4!!), then you will understand. They are called Brown Butter Cookies and OH MY, are these heavenly. I have never baked with brown butter, but now I will never stop. Can't say enough good things about them. They have a rich, carmel flavor that is unlike any other.
Here is a picture from all recipes.com where I got the recipe. I'll have to take my own picture next time!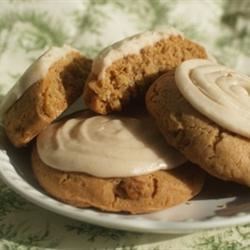 My next holiday happening, isn't really a happening, but an awesome find. I have discovered amazon wish lists! A friend told me about them, and they are so ingenious that I just have to share. It's basically a holiday gift registry that you can email to family members so that they have an idea (or know exactly) what you would like. We set it up for Liam to share with closest family members. Liam does not really need anything, but it's christmas, so of course people want to buy for him. This is the perfect way to cut down receiving things that you know your children will not use or do not need. If you click on the link above, you can check it out.
Lastly, this holiday season I am really focusing on family and just trying to be present in the moment. I try to consciously soak up moments that normally would be a fleeting thought years down the road. Little things like listening to my son say cookie over and over again until I finally give in and give him a bite before dinner, or laughing at my husband push Liam around in a cardboard box (which I know is more exciting than any gift he will receive this year). Also trying to appreciate this time with my husband. Life is so busy (and still is during the holidays), that if ever a time to try and slow down and really reflect on our life, NOW IS IT.  Here's to building family traditons and enjoying the spirit of christmas.
Happy Holidays from my home to yours -Barb